A Breakthrough! Harden's Shredding Technology Helps DR Company to Achieve Production Target
At 16:50 PM on November 23, 2021, the 8 x 1MW agricultural and forestry biomass cogeneration project from DR (WuChang) Biomass Development Limited produced 41000m³/d gas, which meant that the dry straw for biogas power generation project successfully reached production target in China.
Since 2015, China's National Development and Reform Commission (NDRC) and the Ministry of Agriculture have jointly promoted the transformation and upgrading of rural biogas projects, and encouraged the construction of large-scale industrial biogas projects and biological natural gas projects in energy transformation. DR Biomass Development (HK) Limited is a subsidiary company of China Resources Group that specializes in the development and utilization of biomass energy. DR company actively responds to the national carbon peaking and carbon neutrality goals and the strategy of revitalizing northeast China, relies on and integrates the group's energy, environmental protection, agriculture, retail and other business units, invests in bio-natural gas, organic fertilizer and other emerging fields, creates a new business model of modern energy, environmental protection and circular agriculture integrated development, and will strive to make positive contributions to the revitalization of northeast China, pollution prevention, poverty alleviation and rural revitalization. However, it is found that the screening and shredding pretreatment system of straw can't meet the shredding demand for raw material in the anaerobic fermentation project, which seriously restricts the stable production of the project.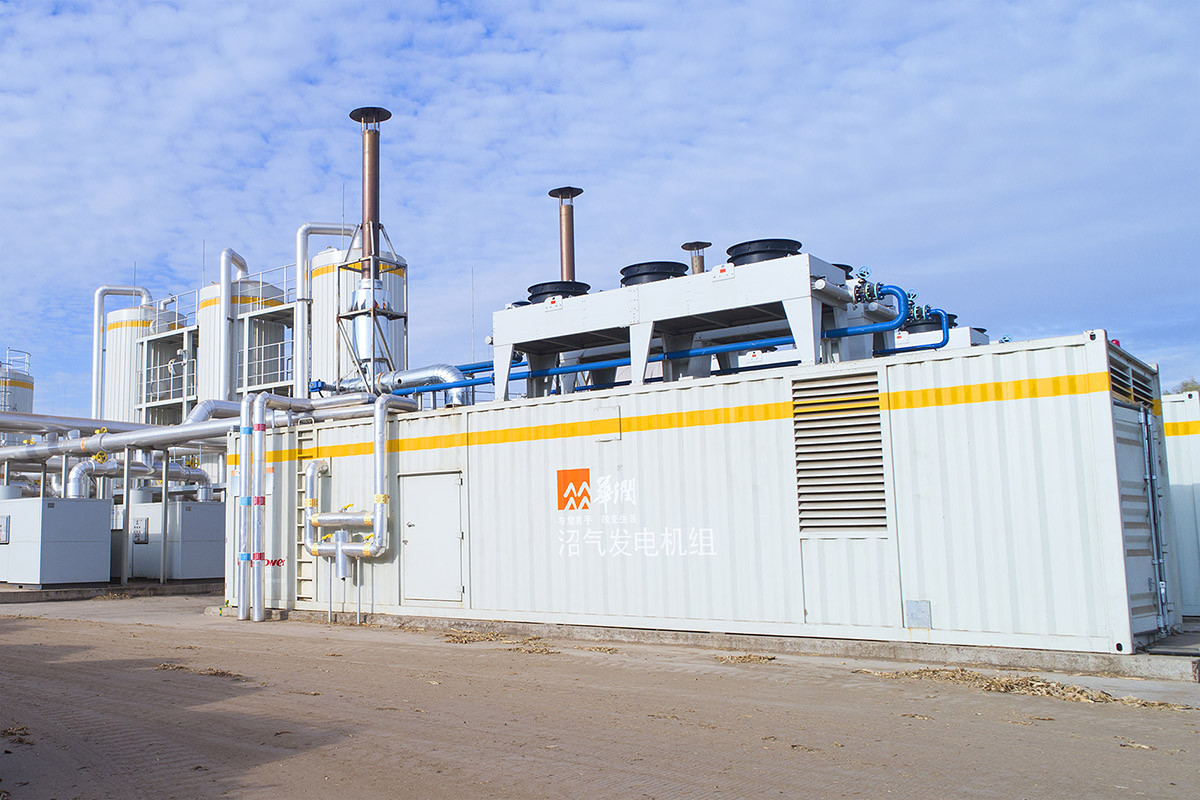 Dry straw has strong fiber, unstable moisture content and large soil content. Traditional shredding and pretreatment equipment is easy to be blocked. Meanwhile, low production capacity and automation degree result in high operation cost. In order to break through the pretreatment problem of dry straw, Harden signed a strategic development agreement with DR Company to increase the R&D investment in key technologies and equipment of dry straw for biogas industry, so as to meet the needs for comprehensive utilization of dry straw anaerobic fermentation. Harden's R&D teams and DR company worked together to carry out various tests on all kinds of dry straw and materials with different water content and humidity, improved and optimized equipment to adapt to different requirements of shredding and screening. The final indicators have reached the technical indicators of both sides!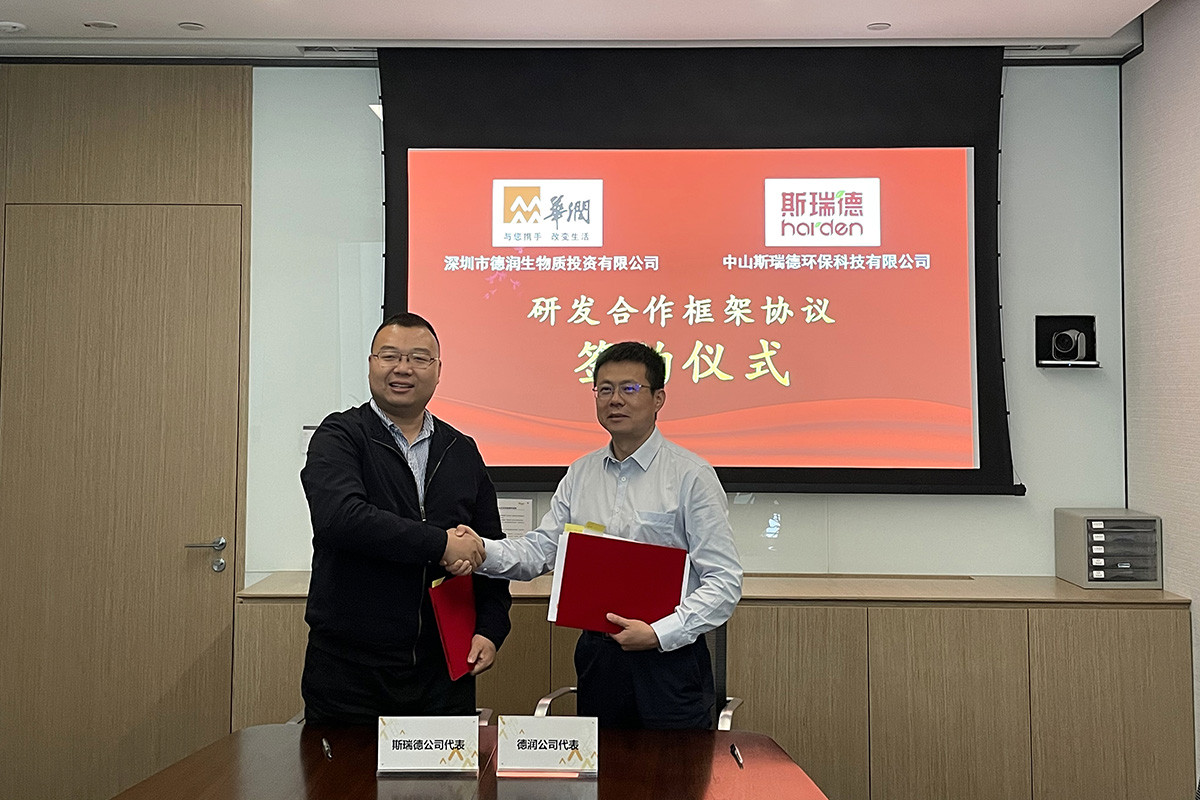 At present, DR (Wuchang) biomass for biogas power generation project formally put into trial production. Harden provides a complete set of automatic screening and shredding pretreatment system for dry straw, which is suitable for corn, wheat, rice and other types of straw. The capacity of the whole processing line is greater than 20t/h, ensures 30mm discharge size of broken straw and meets the requirements of soil and impurity rate which is less than 5%. This Pretreatment crushing system solves the problem of straw shredding faced by anaerobic fermentation industry and provides stable raw material supply for it.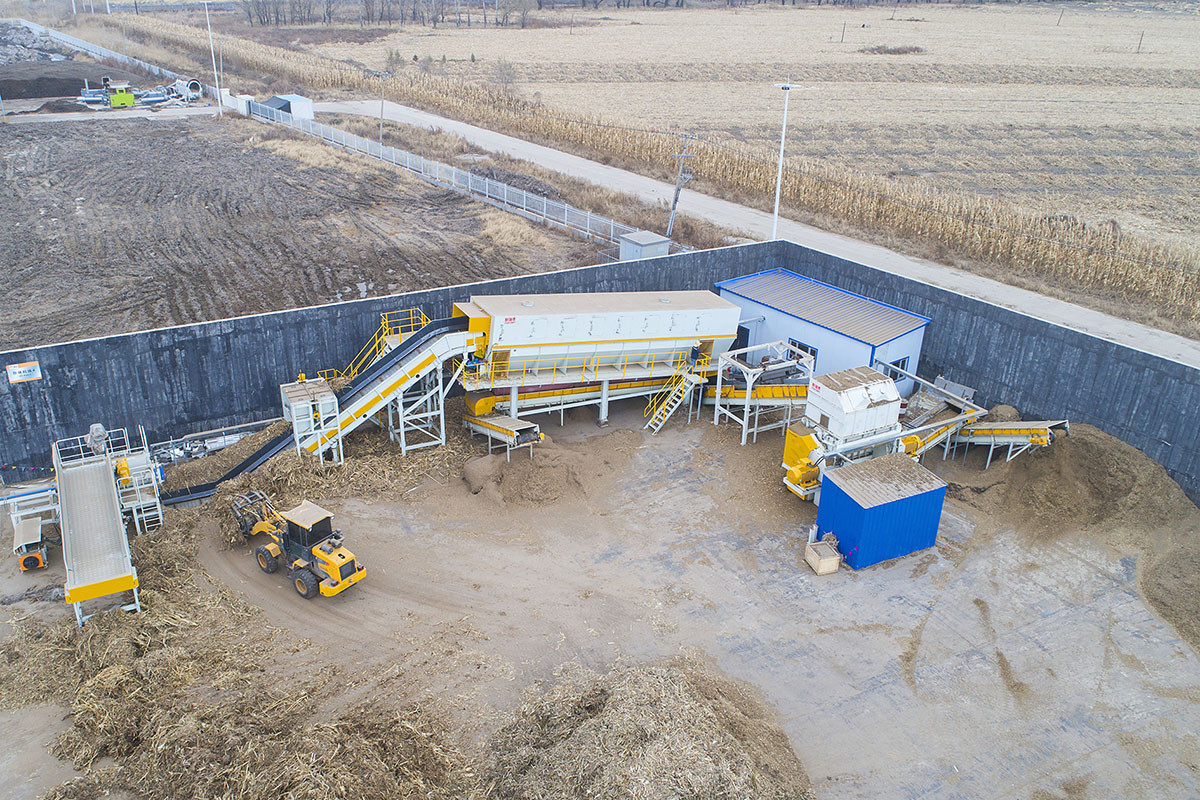 The whole set of automatic screening and shredding pretreatment system for dry straw realizes full intelligent automatic control. The straw to be treated is automatically sent to the slat conveyor, through the linkage control of automatic unpacking system, screening machine, shredder and other equipment, the broken material will be discharged by belt conveyor after meets the size requirement.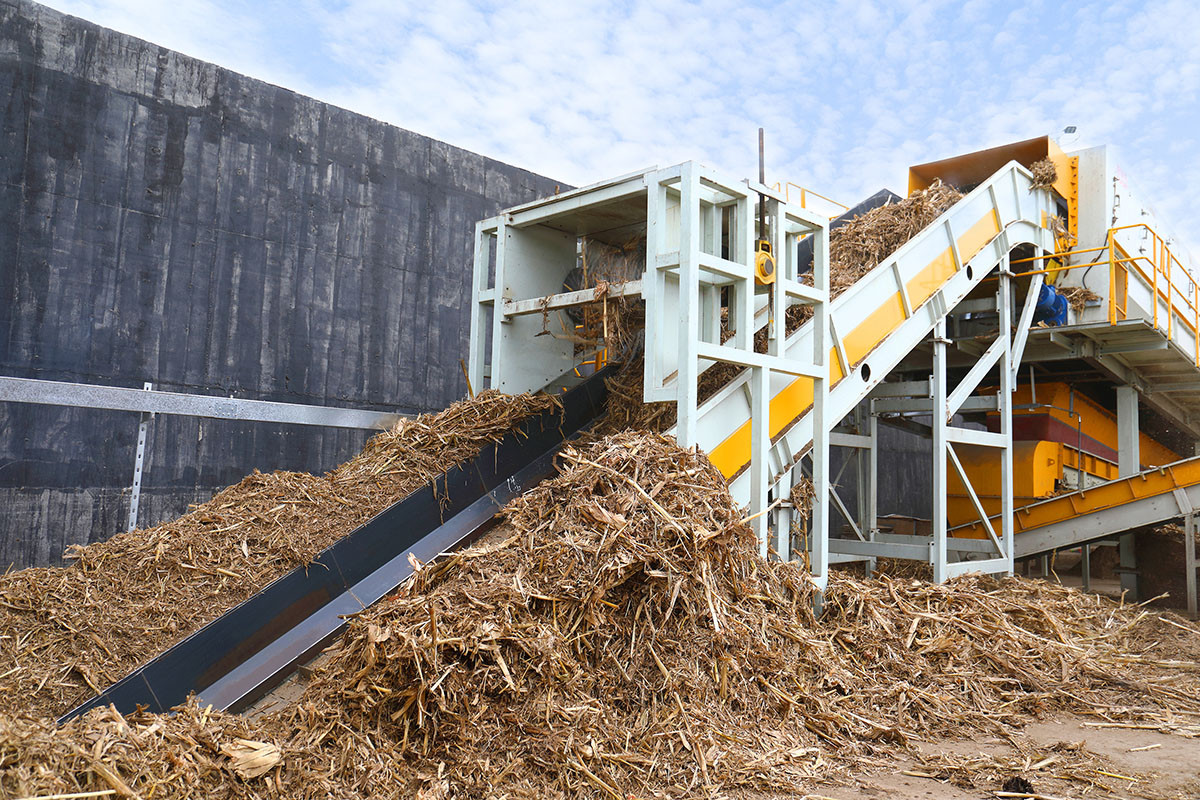 The feeding slat conveyor adopts hinge type structure, has the characteristics of strong impact resistance, large bearing capacity and strong wear resistance, can realize remote start and stop, emergency stop, overload protection and other intelligent control functions.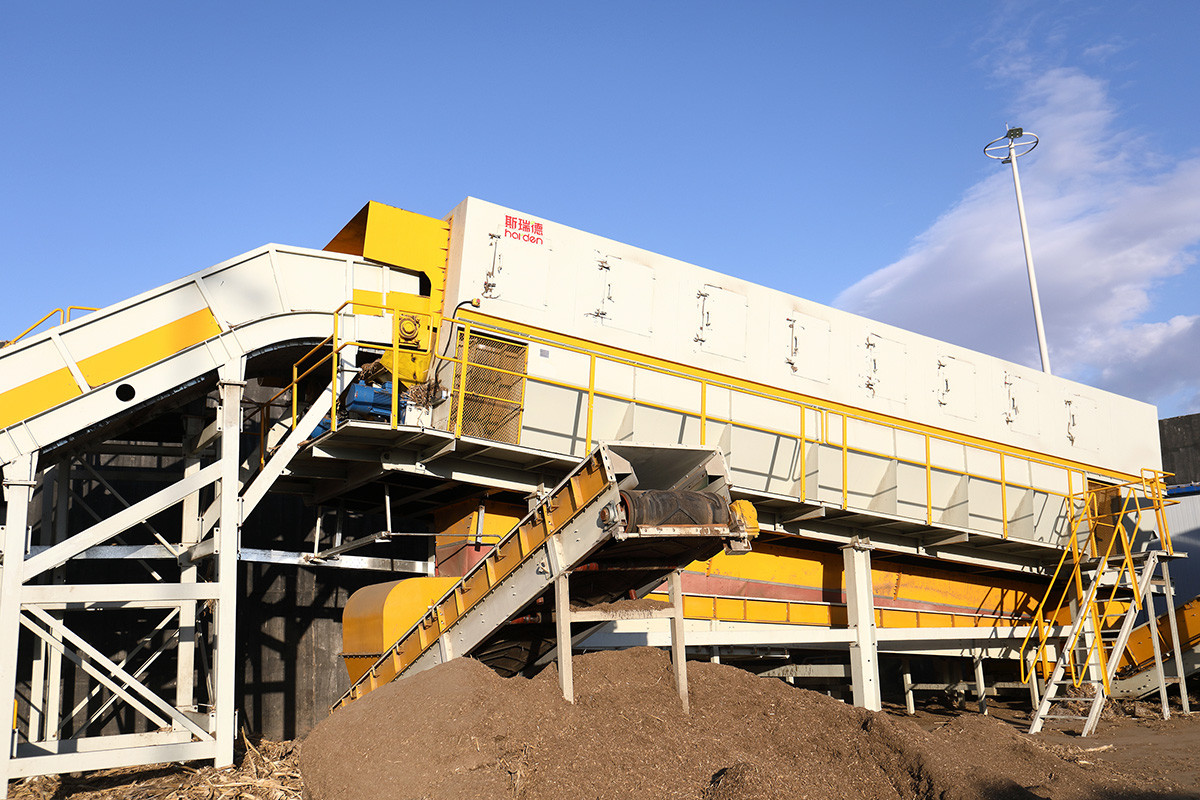 The straw screening machine can loosen material and screen soil at the same time. In the first part of the screening machine, the material is handled loosely, and then the material is screened in the latter part. Finally, the soil removal rate is more than 90%, which significantly improves the purity of straw discharge. The screening machine is equipped with automatic cleaning device to avoid screen blocked by foreign object, and ensures the effect of soil removal.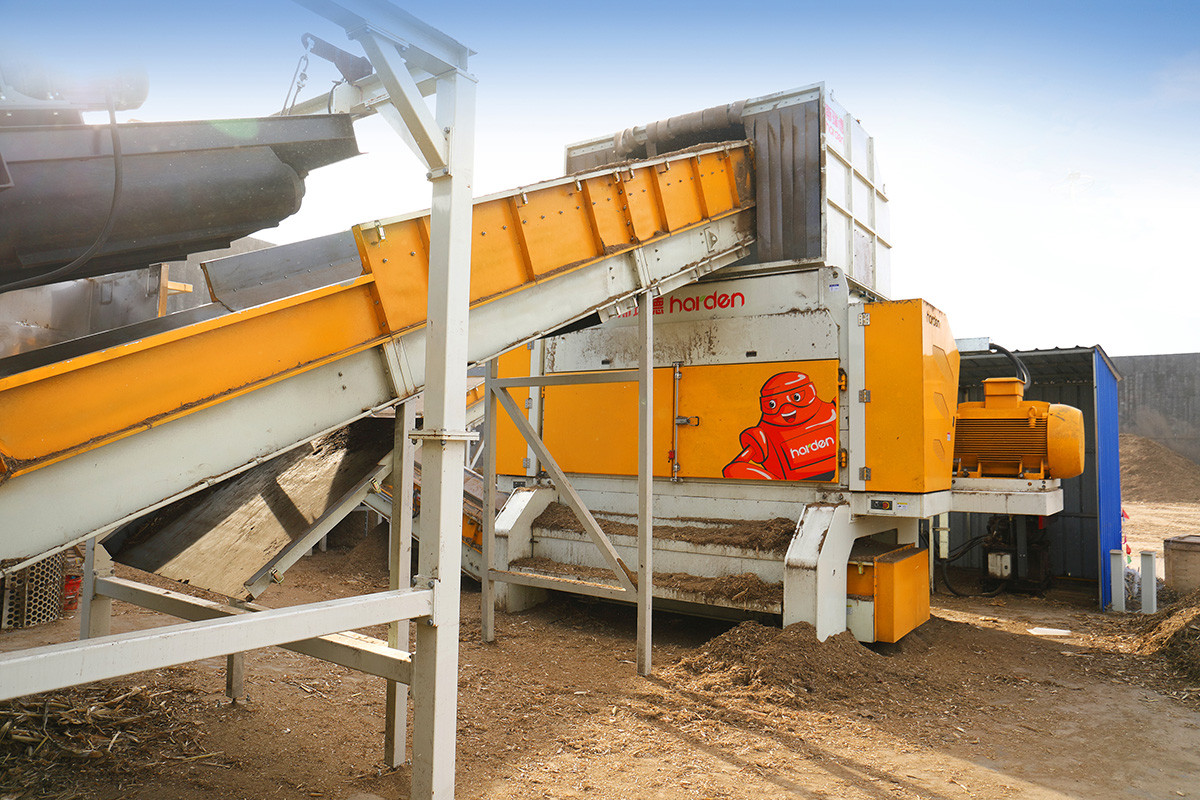 The high-speed shredder provided by Harden is specially designed for dry straw, adopts variety of technical patents, e.g. automatic protection against foreign object, anti-blocking screen design, intelligent pressing device, rapid tool clearance adjustment, etc., can shreds straw down to 30mm or less in one step, realizes the double effect of shredding and loosening. The screen mesh configured by the shredder can effectively avoid the blocking of screen mesh and the generation of long strip material, and the size compliance rate of the shredded material is up to 98%.
Automatic Screening and Shredding System for Dry Straw Provided by Harden

The success of automatic screening and shredding system further reduces the cost of dry straw pretreatment, improves the profitability of enterprises, and effectively boosts the cycle development model of crop straw comprehensive utilization, showing the professional ability of Harden in solid waste treatment technology and one-stop solution.
Harden always adheres to the business philosophy of creating maximum value for customers through technological innovation. We will undertake the social responsibility of carbon peaking and carbon neutrality goals, continue to spare no effort to realize the value maximization of solid waste technology and product research and development, to contribute to the realization of carbon peaking and carbon neutrality goals.